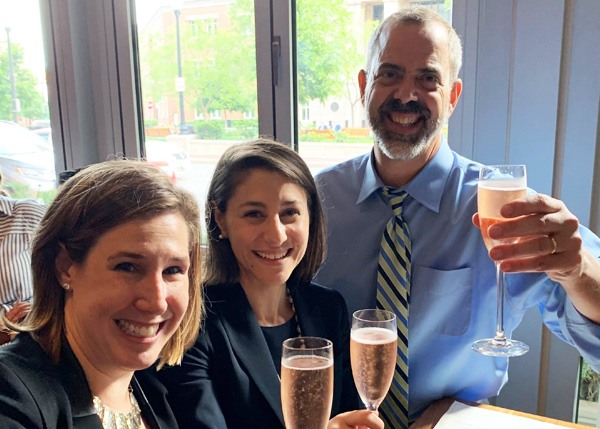 A Reflection on Our First Year

By Gary Thompson
On January 25, 2019, we took a deep breath and together started our own new firm.
We founded our practice based on the core values of excellent client service, team bonds, pro bono giving, and a quest to find the elusive work-life balance. Our boutique firm focuses on the specialty practices of policyholder-side insurance recovery, hospitality industry disputes, and general commercial litigation. Due to our size, we can deliver the same $900 per hour "Big Law" expertise at substantially lower rates, and affiliate with others as needed to deliver full service to our clients. With thanks to our clients, in our first year as Thompson HD, we:
won a federal court jury trial in the "rocket docket" (E.D.Va.) for our policyholder client suing its insurer (the above photo) – the jury was out for less than an hour before asking if they could award our client more than we'd asked for; the court thereafter awarded "bad faith" attorneys' fees;
won a state court preliminary injunction trial for our hospitality client in a case arising out of alleged breaches of a hotel management agreement;
guided the purchase of "representations and warranties" insurance on several corporate mergers;
settled half a dozen insurance disputes for our clients, ranging from $100,000 for a house fire to over $50 million for a major incident at a manufacturing plant;
donated over $200,000 worth of time to pro bono cases, including for a man wrongfully imprisoned, non-profit organizations, the D.C. Bar Pro Bono Center, and more;
provided "low bono" assistance to homeowners, to help them rebuild their lives after disaster;
litigated numerous claims, up to $160 million in value;
advised hospitality, manufacturing, financial, individual, and other clients with insurance issues;
and along the way, took on dozens of new clients who hired us for the first time at Thompson HD.
We enjoyed personal and professional success every step along the way. Our work continues in 2020, now aided by two Big Law-experienced, independent contractor attorneys. We thank each and every one of our clients who have trusted us with their matters, and we look forward to success in our years ahead.
Thank you!
– Gary Thompson, Julie Hammerman, and Kristin Davis