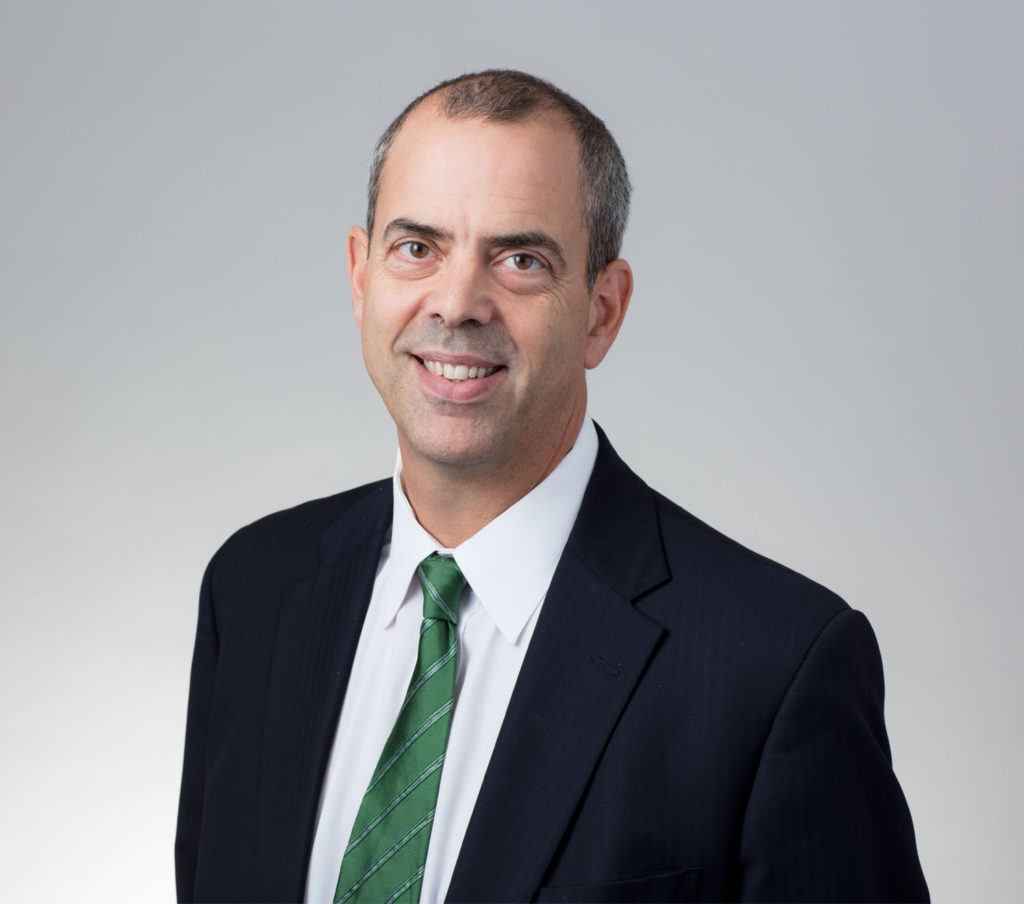 Contact Us
Attorney
Gary Thompson
Gary Thompson has been practicing law for nearly 30 years. He is a top-rated specialist in the field of insurance recovery, including claim analysis, negotiation, mediation, arbitration, and litigation.
Contact Us

Experience
Gary Thompson has experience representing policyholders in all lines of insurance. Gary has worked on dozens of major property claims, including some of the largest in history arising from 9/11, Katrina, and recent hurricanes and fires. Gary also has long-time experience in the hospitality industry on behalf of hotel owners or managers, including relating to management agreements, loan agreements, construction defects, mold, pollution, legionella, personal liability, theft, and various commercial disputes (both insurance and other disputes).
Gary's style emphasizes counselling, dialogue, and settlement – finding the most cost-effective path to the client's objective. When necessary, Gary is an exceptional litigator, with victories before judges and juries. He has been the lead trial lawyer in lengthy trials resulting in policyholder victories, including lead-counsel verdicts of $6 million, $28 million, and $60 million. In total, his court verdicts, arbitration awards, and settlements (as lead lawyer) tally over a billion dollars.
For over a decade, Gary has been ranked by Chambers and others as a leading attorney in his field. His stellar reputation also arises from his steadfast commitment to pro bono and civic service. In 2015, the D.C. Bar recognized Gary as the Pro Bono Lawyer of the Year. He also serves on several non-profit Boards and served eight years in an elected position. Gary is also an avid runner (17+ marathons).
Weisbrod Matteis & Copley PLLC (2018)
Reed Smith – 2006-2017 (D.C. Managing Partner 2014-2017)
Gilbert LLP – 2001-2005 (founding Partner)
Howrey & Simon, D.C. – 1995-2000 (Associate; Partner)
Kaye Scholer (now Arnold & Porter), N.Y. & D.C. – 1990-1995 (Associate)
J.D., Rutgers Law School – Senior Articles Editor, Rutgers Law Review; Mock Trial winner (1990)
B.A., Georgetown University, cum laude (Philosophy); Debate Team (mid-Atlantic college champion; other awards) (1987)
District of Columbia; New York
U.S. Courts of Appeals – District of Columbia Circuit; Ninth Circuit
U.S. District Courts – District of Columbia; Maryland; S.D.N.Y.; W.D. Tenn.
Selected Boards & Professional Affiliations
Higher Achievement (non-profit educational support for urban middle school students) – Pro Bono General Counsel & ex officio Board member (2003-present)
D.C. Appleseed (a non-profit improving D.C.) – Board member (2017-present)
Washington Lawyers' Committee for Civil Rights – Board member (2005-2016)
D.C. Bar Pro Bono Committee/Community Economic Development program – Board member (2005-2008, 2014-present)
Alliance for the Civil War Defenses of Washington – Founder/Officer (2010-present)
Chevy Chase D.C. Advisory Neighborhood Commissioner (publicly elected 2007-2014; Chair 2009-2012)
Rutgers Law School D.C. Area Alumni Association – President (2016-present)
Select Publications/Books/Television Appearances
Books
Book co-author: "Reasonable Expectations: Interpreting Insurance Policies in Common Law Jurisdictions," ABA Book Publishing (Aug. 2016)
Book co-author: "Property Insurance Litigator's Handbook," American Bar Association (2d Ed. November 2010; 1 st Ed. Aug. 2007)
Selected Articles
"Making the Policyholder Whole: Property Insurance Coverage for Both the Damaged and Undamaged Parts of a 'Pair or Set,'" Adjusting Today (July 31, 2018)
"A Tax Case (Yes, Tax) Was Last Term's Blockbuster," National Law Journal (Aug. 31, 2015)
"Running in Guantanamo," The Sun Magazine (Jan. 1, 2014)
"Delaying Election of Attorney General Makes a Mockery of Democracy," Washington Post (Dec. 20, 2013)"The Effect of Sale of a Commercial Property on a Pending Insurance Claim," Adjusting Today (2 nd ed. Dec. 2013)
"The Length of the Road Back from Disaster," Adjusting Today (2 nd ed. Nov. 2013)
"Insurance Coverage for the 2011 Thailand Floods," The Insurance Coverage Law Bulletin, Feb. 2012 (co-author)
"Guantanamo and the Struggle for Due Process of Law," 63 Rutgers Law Review 4 (2011)
"Insurance Coverage for Copyright Infringement in Cyberspace" (co-author), ABA Intellectual Property Committee Newsletter (Fall 2007)
"Defending an Intellectual Property Case: Check for Insurance Coverage," e-Commerce Law Report, Vol. 9, No. 6 (June 2007)
"A Director's Loss by Any Other Name" (co-author), Legal Times (Feb. 26, 2007)
"Property Insurers Put to the Test – Active Sellers' Market Complicates the Claims Process in Wake of Hurricanes," National Real Estate Investor (July 1, 2006)
"The Effect of the Sale of Commercial Property on a Pending Insurance Claim," American Bar Association's Coverage (July 2006)
"Commercial Insurance In The Wake Of Katrina, Rita & Wilma," Dow Jones Corporate Governance (Nov. 23, 2005)
"Hotel Insurance Claims – 15 Practical Pointers," Hotels Magazine (October 2005)
"After the Hurricane: Property Damage Can Spawn a Follow-Up Insurance Storm," Legal Times (Aug. 15, 2005)
"Property Coverage 'Contingent' on Damage to other Property," American Conference Institute Materials (Mar. 11, 2002)
"Dealing with the Aftermath of September 11 and the Changes Beyond" (co-author), American Conference Institute Materials (Mar. 11, 2002)
"Insurance for Losses Resulting From the Terrorist Attacks of September 11, 2001," Mealy's Litigation Reports: Insurance (Lexis-Nexis) (Sept. 25, 2001)
"The Age of E-Discovery" (co-author), Corporate Legal Times (June 2000)
"If We Can't Vote for Them, Why Can They Tax Us?," Washington Post, Outlook Section (Apr. 30, 2000)
"The Daubert Rule in Toxic Tort Litigation" (co-author), Risk Assessment and Risk Management in Environmental Law, ALI-ABA (Oct. 8, 1998)
"The Rooker-Feldman Doctrine and the Subject Matter Jurisdiction of Federal District Courts" (cited by U.S. Circuit and district courts), 42 Rutgers Law Review 859 (1990) Conference Papers & Speaking Engagements
Hospitality & Tourism Law Program, Speaker, American Univ. Law School (June 2017)
"Trying a Case to a Jury: Dos and Don'ts," the ABA Insurance Coverage Law Committee Conference (March 6, 2016) (co-author and presenter with two Judges)
"Give & Take: the Battle Over Defense and Settlement Dollars" (co-author), ABA Insurance Coverage Litigation Committee Conference (Mar. 5, 2015)
Recovery of Diminished Value in First Party Property Insurance Claims" (co-author), ABA Insurance Coverage Litigation Committee Conference (Feb. 27, 2013)
"Super Storm Sandy: Protecting Your Insurance Rights and Potential for Recovery," Presentation, New York City (Dec. 14, 2012) (co-presenter)
Rutgers Law Review Alumni Reception (keynote speaker) (Oct. 2012)
"The Insurance Claim Recovery Process: Suggestions and Practical Pointers," Hospitality Law Conference (Feb. 8, 2012)
"Reversing Course: Can An Insurer Seek Reimbursement From Its Policyholder For Amounts Related To Noncovered Claims?" (co-author), ABA Insurance Coverage Litigation Committee Conference (Jan. 7, 2011)
"Allocation of Costs In An Insurance Action: The 'All Sums' Contract Method Versus Extra-Contractual 'Pro Rata' Approaches," (co-author), ABA Insurance Coverage Litigation Committee Conference (various editions, 1996-2002)
Notable Quotes & Interviews
Law360: "5 Tips for Policyholders to Prevail at Trial," Law360 (Apr. 14, 2015); "3 rd Circuit Sandy Debris Ruling Vexes Policyholders" Law360 (Apr. 1, 2015); "2 Years In, Sandy Suits Target Flood Exclusions, Deductibles," Law360 (Nov. 12, 2014); "Fate Of Significant Sandy-Inspired Bills Still Uncertain," Law360 (Oct. 29, 2013); "Sewage Cruise Suits Least Of Carnival's Coverage Worries," Law360 (Feb. 19, 2013); "Sandy May Shift Insurers' Hurricane Deductible Strategy," Law360 (Nov. 7, 2012);"Ky. High Court Nixes Insurer's Anti-Assignment Fight," Law360 (Oct. 26, 2012); "How to Slam Dunk Closing Arguments," Law360 (July 27, 2010); "Top Five Mistakes to Avoid in Front of a Jury," Law360 (June 4, 2010); "Options Probe Highlights D&O Insurance Issues, Securities Law 360 (June 29, 2006).
Business Insurance: "Hurricane Sandy Losses In Marine And Energy Sectors Are Still Being Assessed," Business Insurance (Nov. 4, 2012); "What You Should Know Before Suing an Insurer," Business Insurance (Apr. 29, 2012); "Documentation, Communication Key Following Disaster," Business Insurance (Aug. 14, 2011); "Insurers Still Liable for Losses," Business Insurance (June 21. 2010); "Hard-to-Find Punitive Damage Coverage is Tricky Business," Business Insurance (Feb. 15, 2010); "Insurer Wins Katrina Coverage Dispute," Business Insurance (Aug. 21, 2006).
New York Times: "State Farm Told to Pay Gulf Claim," New York Times (Jan. 12, 2007); "State Farm Negotiating Gulf Claims Settlement," New York Times (Jan. 8, 2007); "Small Clause, Big Problem," New York Times (Aug. 4, 2006); "From Burials to Money, Battles in Court Reflect Unhealed Wounds of 9/11," New York Times (Sept. 9,
2004); "9/11 Suits Reveal Law Allowing Benefits to an Absentee Parent," New York Times (Apr. 20, 2004).
Wall Street Journal: "State Farm Settles Lawsuit Involving Katrina Damages," Wall Street Journal (Jan. 20, 2007); "Real Estate Bonds Will Likely Take a Hit in Wake of Katrina," Wall Street Journal, Page C1 (Sept. 14, 2005).
Hotel Industry Publications: "Payment Delays, Code Upgrades Impact Hotels Rebuilding After Hurricanes," Hotel Business (Feb. 7, 2006); "Insurance Fallout About To Take Shape," Hotel Journal (Dec. 2005); "Business Interruption Insurance – A Lifeline for Hotels," Hotel & Motel Magazine (Oct. 3, 2005); "Hotel Insurance Claims – 15 Practical Pointers," Hotels Magazine (October 2005).
Other: National Law Journal (various quotes, 2014-present); "On the Jersey Shore, Emotion Outweighs Cost of Rebuilding," Reuters Wire (Nov. 2, 2012); "What's That Saying About Luck, Preparation and Opportunity?," Washington Business Journal (Feb. 12. 2010); "Homeowners Decked by Katrina Still Wait for Insurers to Pay Up," USA Today (Aug. 25, 2006); "Storm Surge is Flood, Judge Says," Washington Post (Aug. 16, 2006) (Interview); "Insurance Tips for Handling Disasters," Affordable Housing Finance (Nov. 2005); "Investors, Analysts Scurry to Determine Insurance Implications of Katrina, Commercial Real Estate Direct, Sept. 15, 2005 ; "Helping a Mom Left Behind – Lawyers Fight to keep 9/11 Death Benefit from Absent Father," Legal Times (Nov. 10, 2003).
Television & Radio Appearances: various appearance on D.C. area television networks for ABC, CBS, and Fox; NPR Radio
Discover helpful resources & news